Accounting & Bookkeeping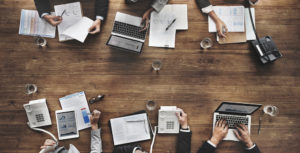 Accounts Payable Management – All clients' invoices are mailed directly to our office and reviewed and posted for payment.  This will help you with cumbersome paperwork.  We keep copies of all invoices, saving you time with organizing and filing.
Weekly Cash Flow Management – Every week a cash flow report is prepared. This indicates the beginning cash balance at the bank, as well as detailing any activity for the week to arrive at the ending cash balance.  At this point, a list of the weekly suggested accounts payable is made and submitted to you for approval.  We understand the need for you to be involved in every dollar spent and for this reason no invoice is paid without your authorization.  Our clients love this weekly cash flow report as it is an essential tool in cash management and projections.
Bank Reconciliations – We will make sure that each deposit we send to the bank on your behalf is properly credited to your account.  We will also reconcile all payments and deductions.
Agent Commission Preparation – Many of our clients have sales agents selling their products world-wide.  Whether their commission is based on gross sales or cash receipts, we will make sure that your agents' commissions are accurately calculated and paid to your agents in a timely manner as well as act as a liaison between your sales team and your company.
Payroll – We provide complete in-house payroll management, including  Direct Deposit for all employees, payroll tax payments, health insurance deductions, 401K management and quarterly payroll tax returns.
Sale Tax – When applicable, all sales tax is collected and we will file the return for you
Monthly Financial Statement – Each month a complete financial statement, trial balance and general ledger is sent to you for your review.  We will compare prior year vs. current year and make managerial suggestions to help improve your profitability.
Year-End Closing – A year-end financial statement book is prepared for you and your tax preparer to facilitate the closing of the year-end.  In addition we will work closely with your tax preparer to find the most advantageous areas to save you money.